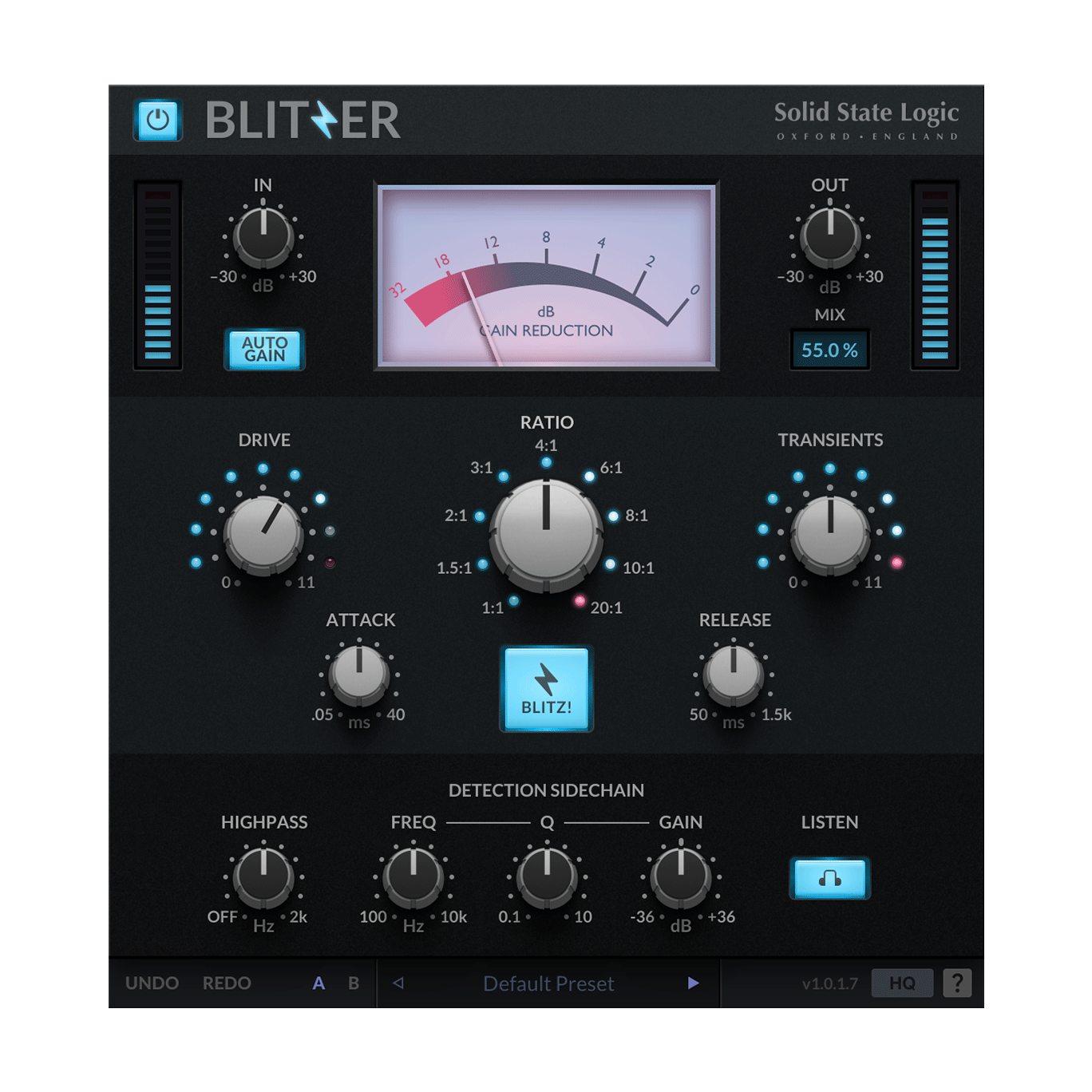  
Blitzer
Analogue hardware-inspired character compressor
Click here to view our security policy
Click here to view our returns policy
Analogue attitude compressor
The SSL Blitzer plug-in is an analogue hardware-inspired character compressor – capable of everything from soft, saturating compression to explosive brick-wall limiting. In addition to adjustable transient shaping and vintage-style harmonic drive for adding colour to your tracks, Blitzer offers 10 unique compression curves across 10 ratios, each with a unique shape and tone.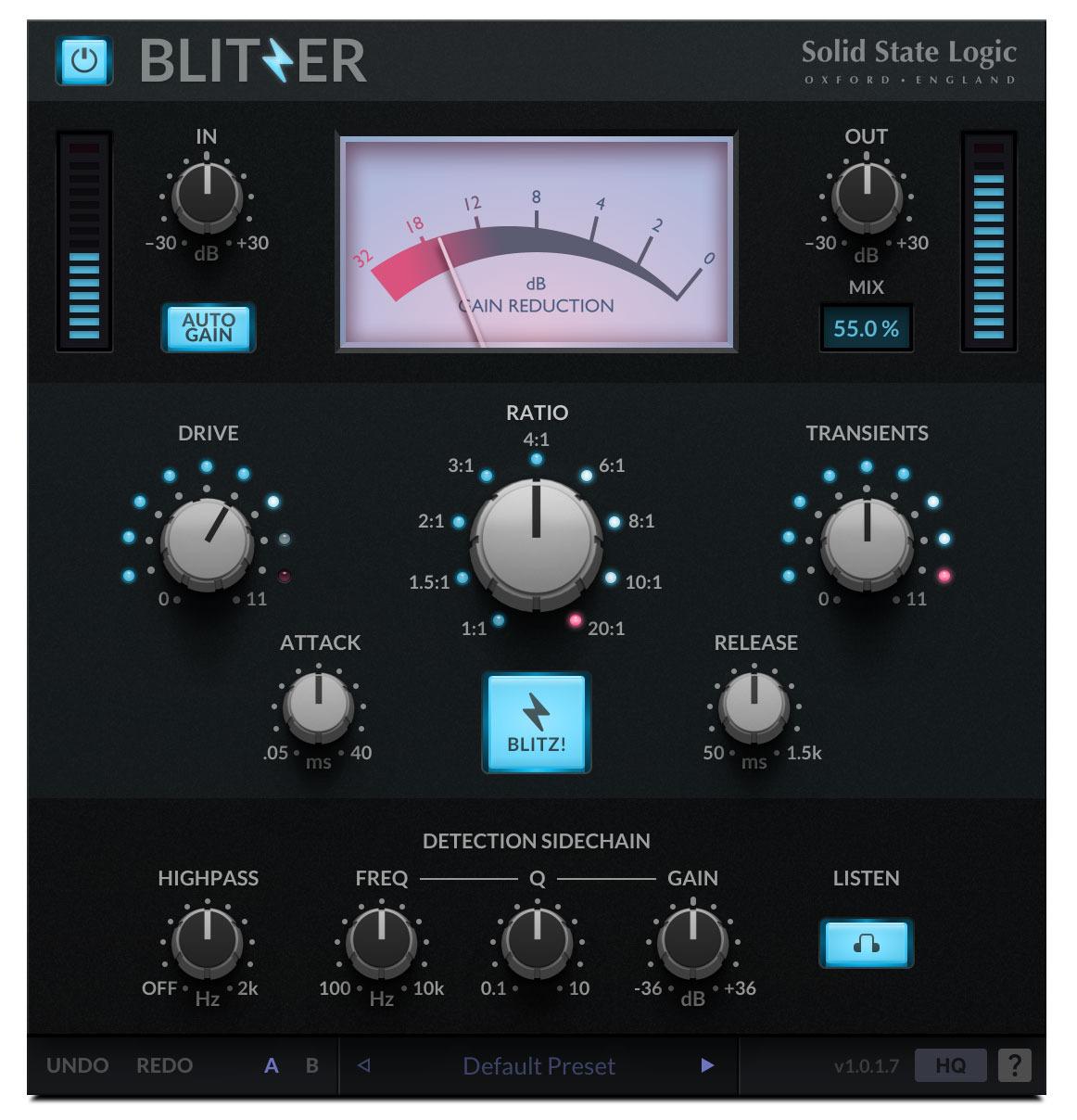 With the distinct response of tube, VCA and vintage opto compressors all from a single easy-to-use interface, you're never more than a click away from what you need. Combined with MIX control for parallel compression, AUTO GAIN to help maintain your levels, and SSL's contextual help system, Blitzer is a versatile compressor plug-in with startling variation.
Versatile character compression suitable for any source, inspired by hardware such as the 76 limiting amplifier and 2A levelling amplifier
Add warmth using the DRIVE control and re-dial in the original dynamics using the TRANSIENTS attack modification control
Use AUTO GAIN to maintain your levels and MIX to dial in parallel compression and punch
Slam room mics and other tracks using the "all buttons in" BLITZ! compressor mode
Detection sidechain for frequency-dependent compression
Full support for native Apple silicon M1/ARM with Universal 2 binary
Blitzer Curve Comp Information
Tube-driven, electro-opto VCA levelling amplifier
Solid-state FET-based feedback compressor/limiter
Over-easy VCA compressor
Vintage tube limiter
Ratio = 10:1 Attack = 4-10 Release = 0 Highpass Add drive
Ratio = 6:1 (3/4/6/20) Attack = 2 (0-3.5) Release = 4 (1-10.5) No drive
Ratio = 1.5:1 (1.5-6) Attack = 9 Release = 2
Ratio = 6:1 Attack = 4 (3-5) Release = 4 (2-7)
Vocals especially; also bass, drums, mix
Bring out vocals in mix; tame drums; enhance bass or guitars
Beef up drums, also works on bass, synths, guitars; bring out transients on kicks, snares and claps
Add vibe to drums, bass and vocals; bring glow to your final mix
Classic analogue knee compressor
Inspired by hardware such as the 1176 and LA-2A, Blitzer offers 10 unique compression curves across 10 ratios. This unique character compressor can deliver everything from soft saturating compression to explosive brick-wall limiting.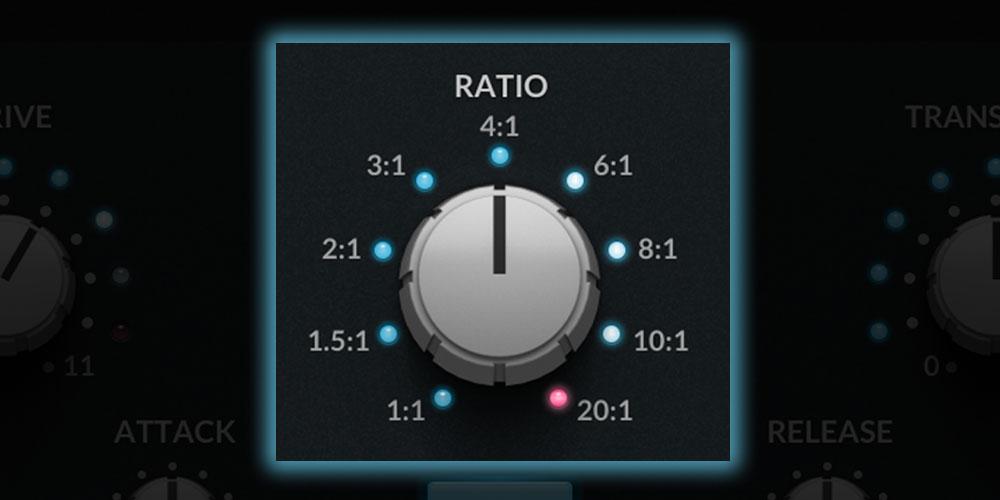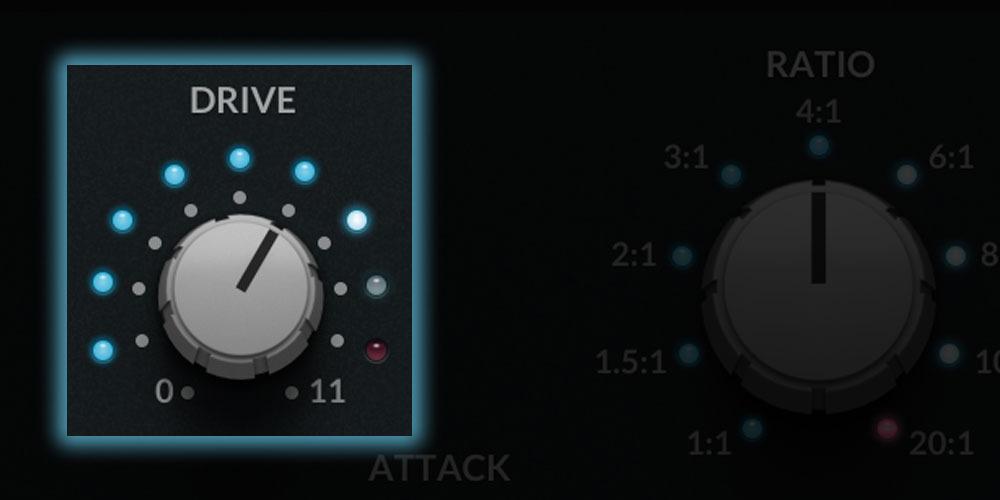 Add colour to your tracks
Use the DRIVE control to generate subtle and gentle harmonics or destroy your signal. You can even use the compressor in 1:1 ratio to warm your tracks without compressing.
BLITZ! mode
Slam room mics or energize your entire mix using the "all in" BLITZ! mode – compounding brick-wall limiting with a logarithmic decay gives a distinct sound that sounds amazing on live drum room recordings. But the fun doesn't need to stop there. Get creative!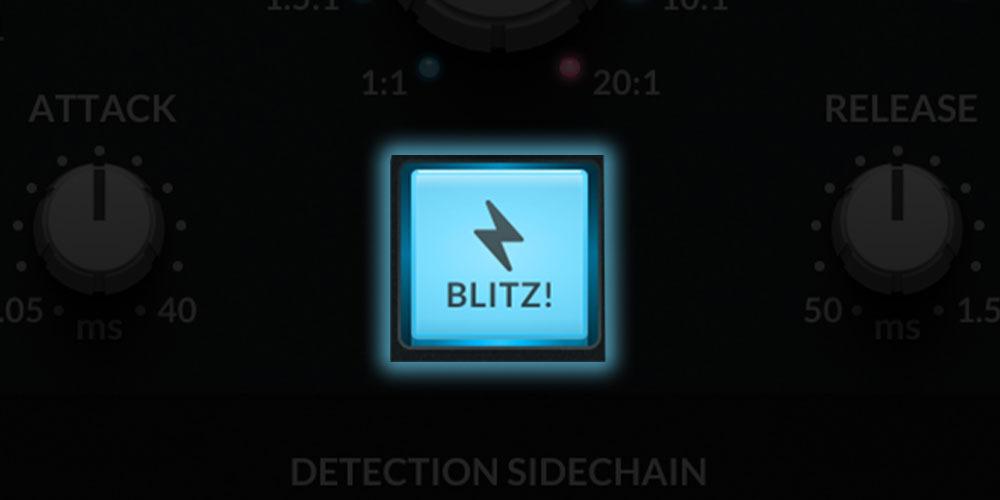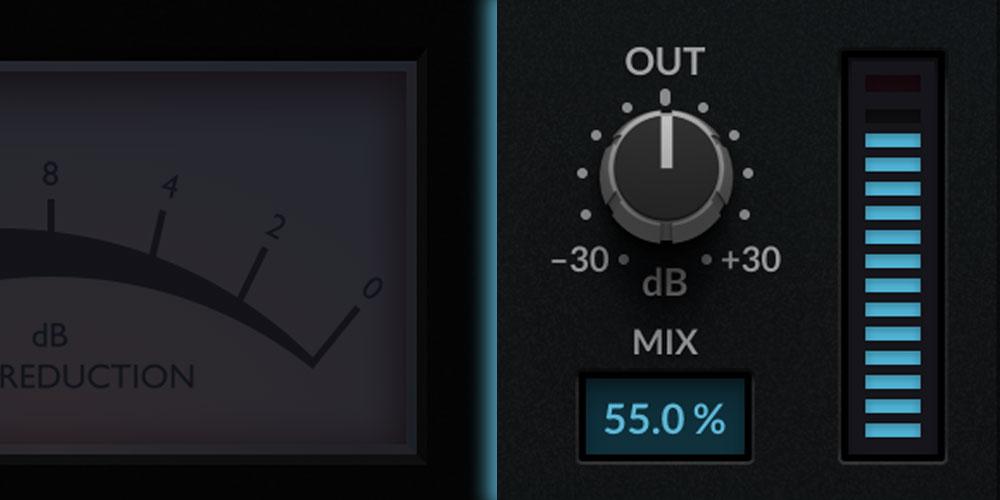 Parallel compression
The MIX control can be used to dial in the original signal – allowing for parallel compression and punch, or for simply reducing the intensity of the effect to blend in better with the rest of your mix.
Detection sidechain
Use the HPF to remove unwanted low-end frequencies – perfect for drum busses! – and tame unruly vocals and harshness using the detection sidechain bell filter.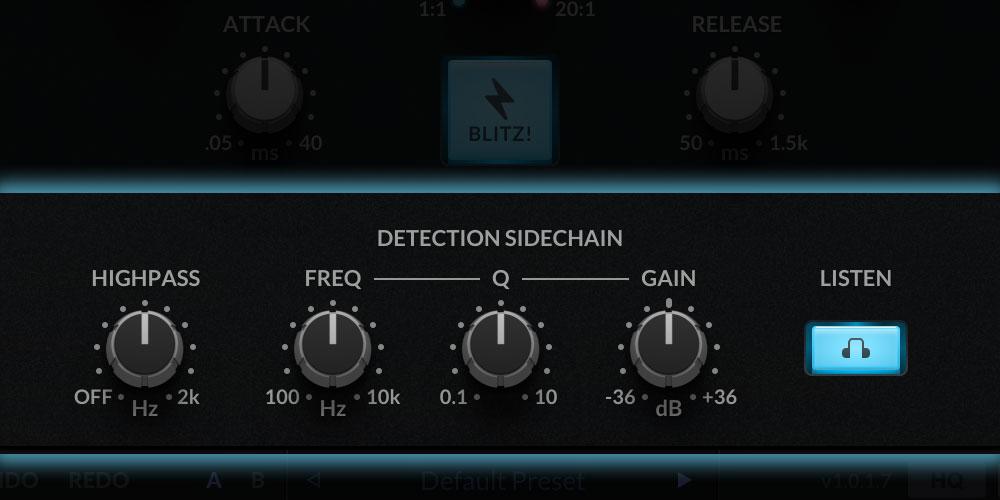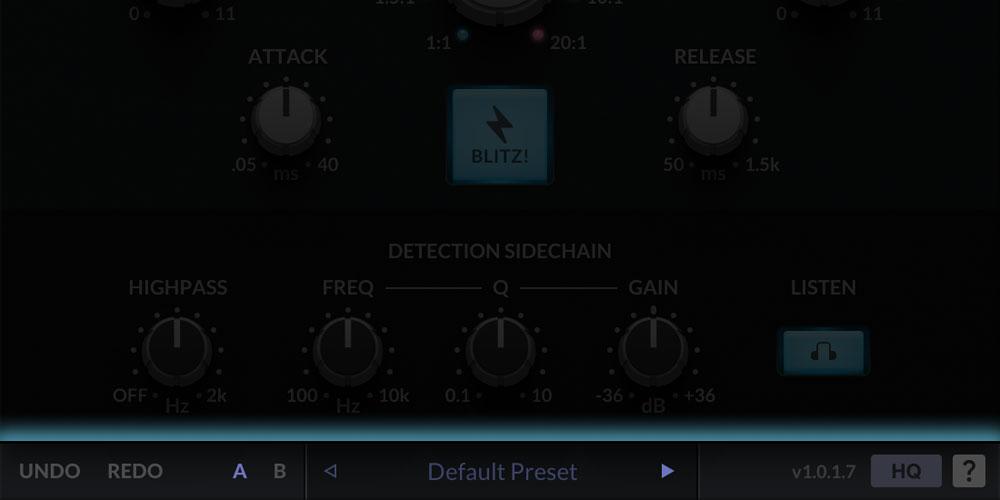 Built on the SSL Plug-in Engine
The SSL Plug-in Engine offers cross-platform preset management, A/B comparison, a built-in UNDO/REDO stack and brand new built-in contextual help to guide you through the features of the plug-in.
Free trial for 14 days
To start a 14-day free trial, simply download and install the Blitzer plug-in below.
Upon launching your DAW, click the 'Try' button to activate your free trial. If the Activation Experience pop-up does not appear on launch, simply add the plug-in on any insert. You will be asked to log into your iLok account, and the trial authorization period will begin.
Downloads
Use the SSL Download Manager to install and manage your SSL plug-ins. Click on the button below and log into your SSL Account to get started.
For offline installers, please visit this FAQ.