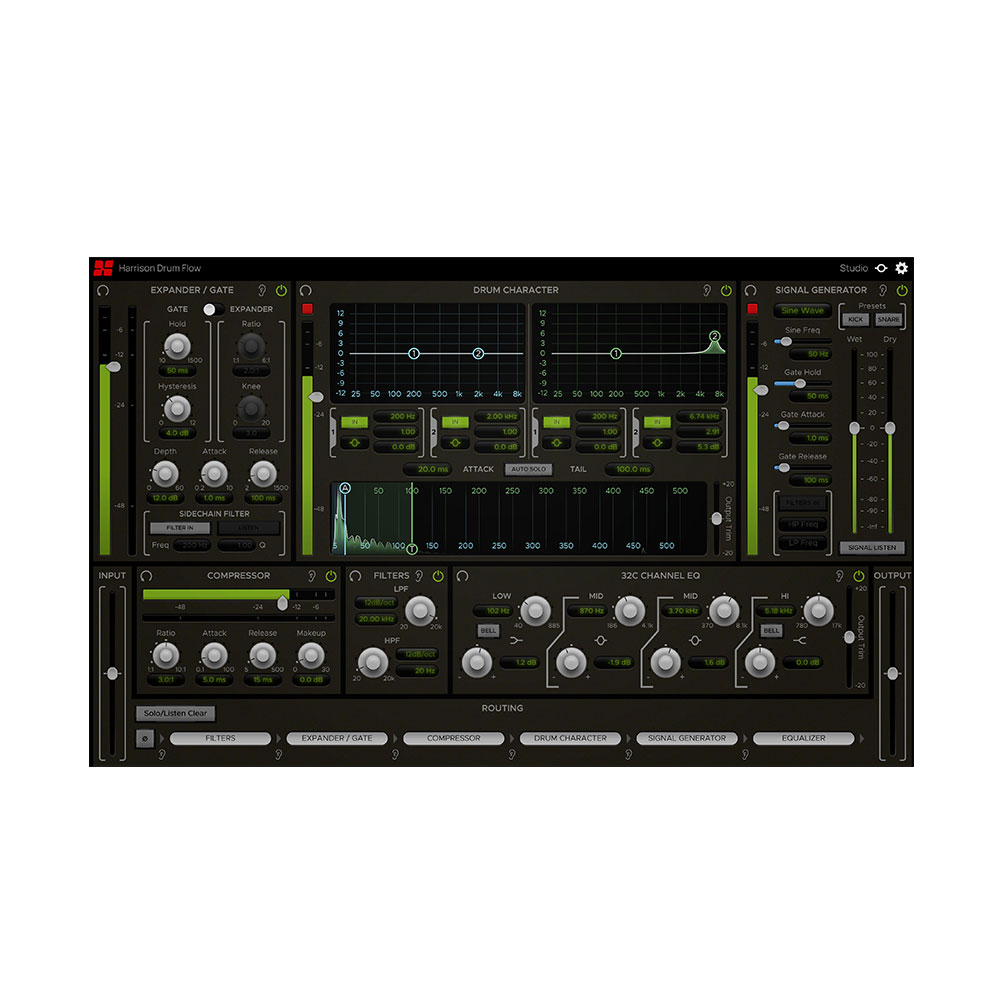  
Harrison Drum Flow
Harrison Drum Flow is an all-in-one processing suite designed specifically to improve drum tone.
Click here to view our security policy
Click here to view our returns policy
The ultimate drum processing solution
Drums and drum samples are the life force that drives your song. They create the mood, the energy, and the vibe that sets you apart from the rest. Harrison Drum Flow is a complete drum processing solution that enhances the punch, detail, and attack of your drums without compromising the nuance, clarity, and warmth that makes them sound great, taking your drums from ordinary to extraordinary. With Drum Flow, you can sculpt your drums with ease and precision giving your drums personality, dynamics, and expression. Whether you need to add punch to your kick, tighten your snare, brighten your cymbals, or add some depth to your toms, Drum Flow has you covered. It gives you control over every aspect of your drums and makes them sound like they were recorded in a world-class studio. It's the secret weapon for making your drums stand out from the crowd.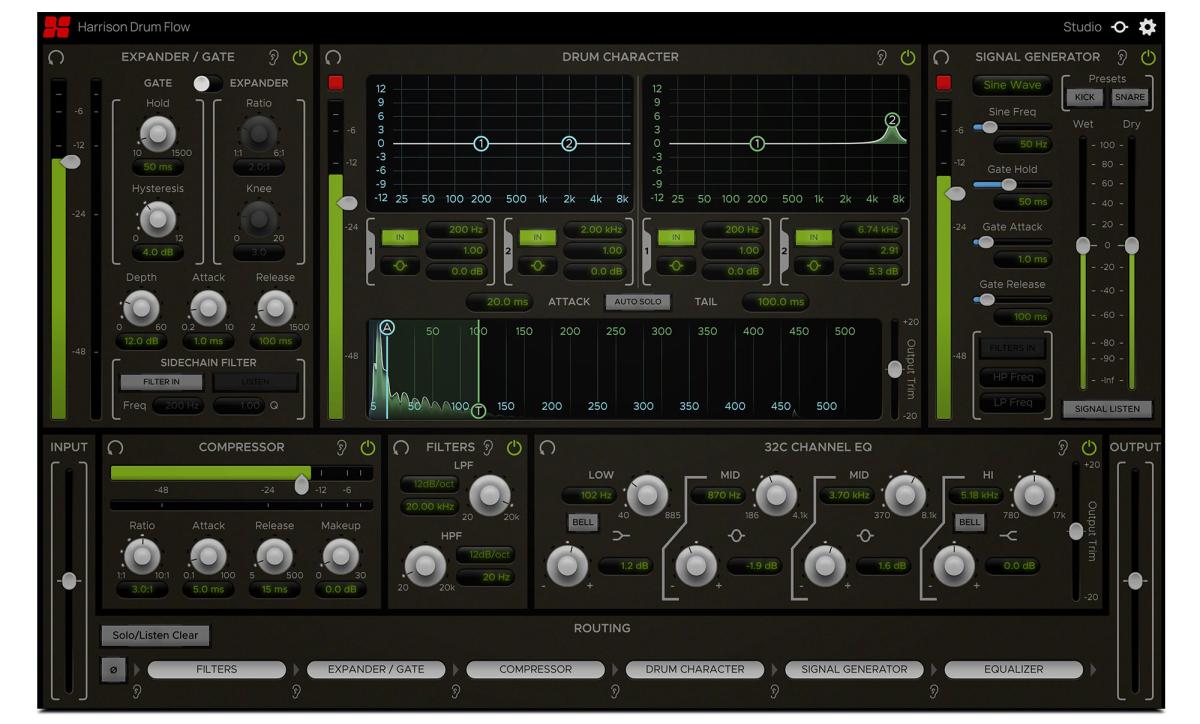 Drum Flow allows you to mix and match 6 different modules to shape your drums in any way you want. You can modify the character of your drums, add sub-tones or noise with the built-in signal generator for flavour, and then dial in the perfect amount of compression, EQ, and gate to fit it perfectly in your mix. And you can do it all from one simple interface. You can route the modules in any order you want, and you can adjust the input, output, and routing levels with ease. Drum Flow is the ultimate drum plugin for pro audio engineers and enthusiasts alike. It will help you create stunning drum sounds that will blow your clients away!
Transient waveform and EQ displays
Expander/Gate tightens drum sound and removes bleed from nearby drum mics
Processing elements separated into easy-to-use module controls
Master controls consisting of input, output and routing sections
Mac/Windows/Linux compatible
Drum Character
The Drum Character is an EQ that detects the transients of drum hits and allows you to EQ their Attack and Tail ranges separately.
The Threshold slider attached to the input meter on the left sets the level at which the Drum Character EQ gets triggered. Whenever the input signal exceeds the Threshold, the Trigger Indicator light above the input meter will flash indicating that a new drum hit transient has been detected. Set the Threshold so that it only triggers on the desired drum hits.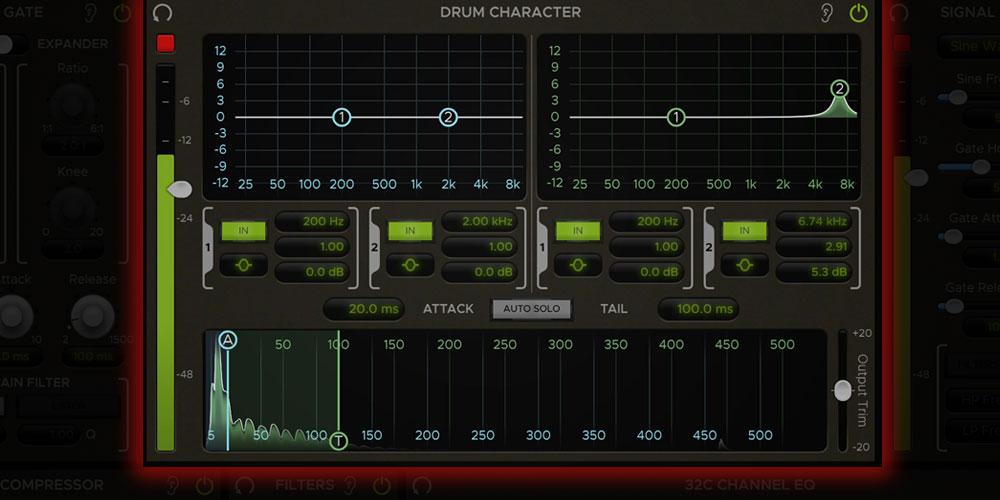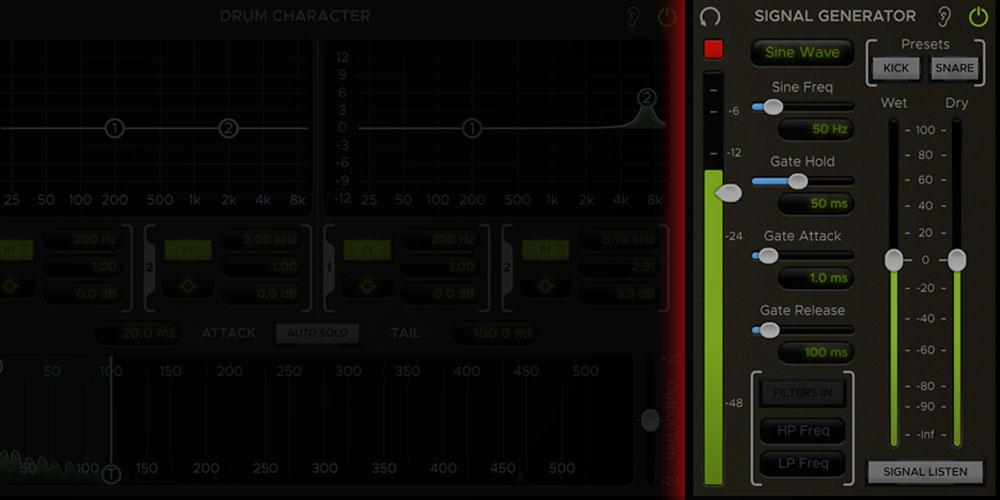 Signal Generator
The Signal Generator offers a convenient way to enhance drum hits with various types of synthesized signals, such as white noise on a snare or a low-frequency sine wave on a kick. The generated signal is fed through a gate which is keyed off of the main input allowing the signal to be triggered on drum hits. The generated signal can then be blended with the main input signal in parallel using the Wet and Dry faders.
Compressor
Harrison's full-featured console compressor with Ratio, Attack, Release, and Makeup controls. The Compressor is based on the Harrison Mixbus channel strip compressor.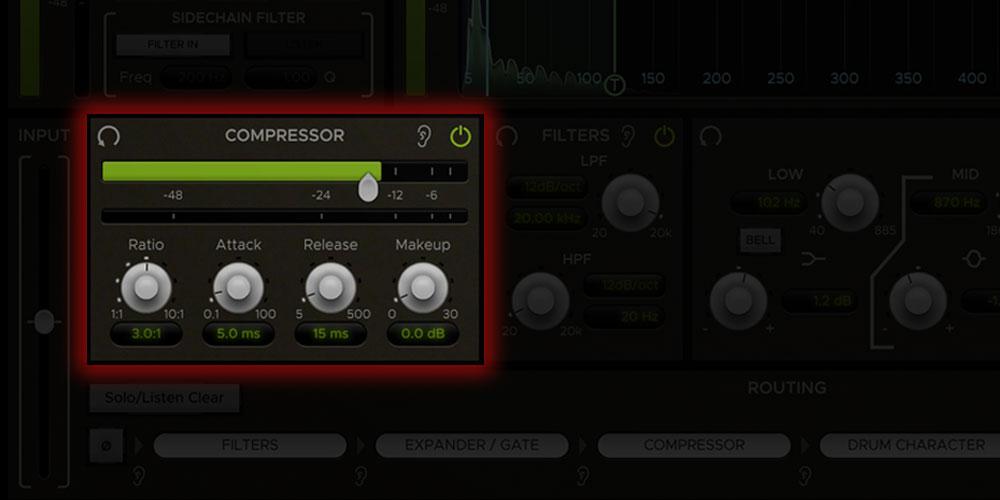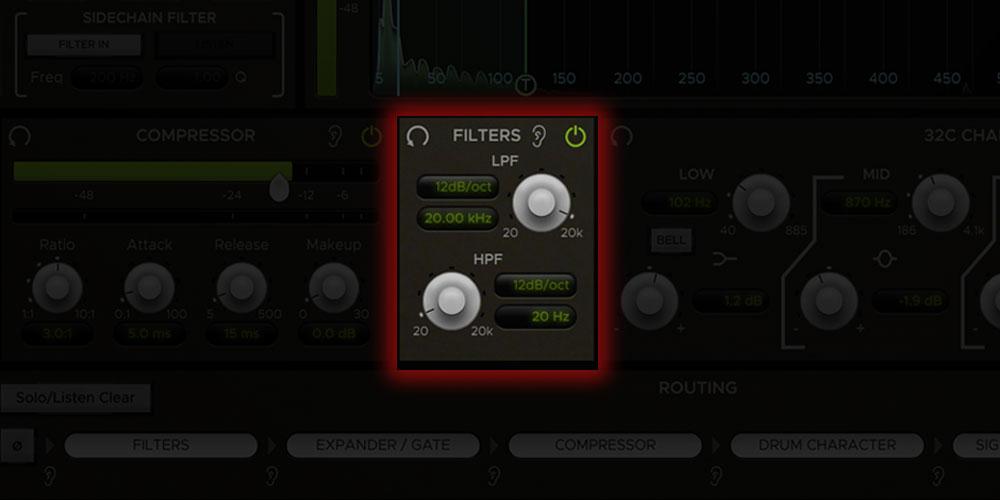 Filters
The Filter module contains a Low-Pass Filter (LPF) and a High-Pass Filter (HPF) with variable slopes. Set the corner frequencies of the Filters by adjusting their Frequency knobs or by typing values directly into the corresponding Frequency control labels.
32C Channel EQ
The 32C Channel EQ is modelled after the analogue EQ found on the Harrison 32C channel strip. It has four bands with Frequency and Gain controls, optional high & low shelf filters, and an Output Trim control.
The four bands consist of a HI band, LOW band, and two MID bands. Each band section has Frequency controls on top and Gain controls on the bottom. You can adjust these parameters with the knobs or by typing values directly into the corresponding control labels.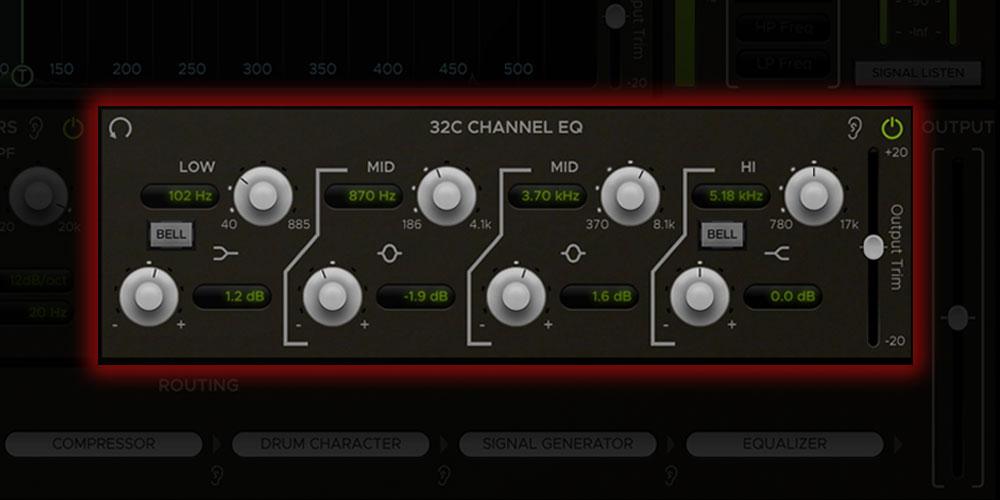 Free trial for 14 days
To start a 14-day free trial, simply download and install the Drum Flow plug-in below.
Upon launching your DAW, click the 'Try' button to activate your free trial. If the Activation Experience pop-up does not appear on launch, simply add the plug-in on any insert. You will be asked to log into your iLok account, and the trial authorization period will begin.
Downloads
Use the SSL Download Manager to install and manage your SSL plug-ins. Click on the button below and log into your SSL Account to get started.
For offline installers, please visit this FAQ.