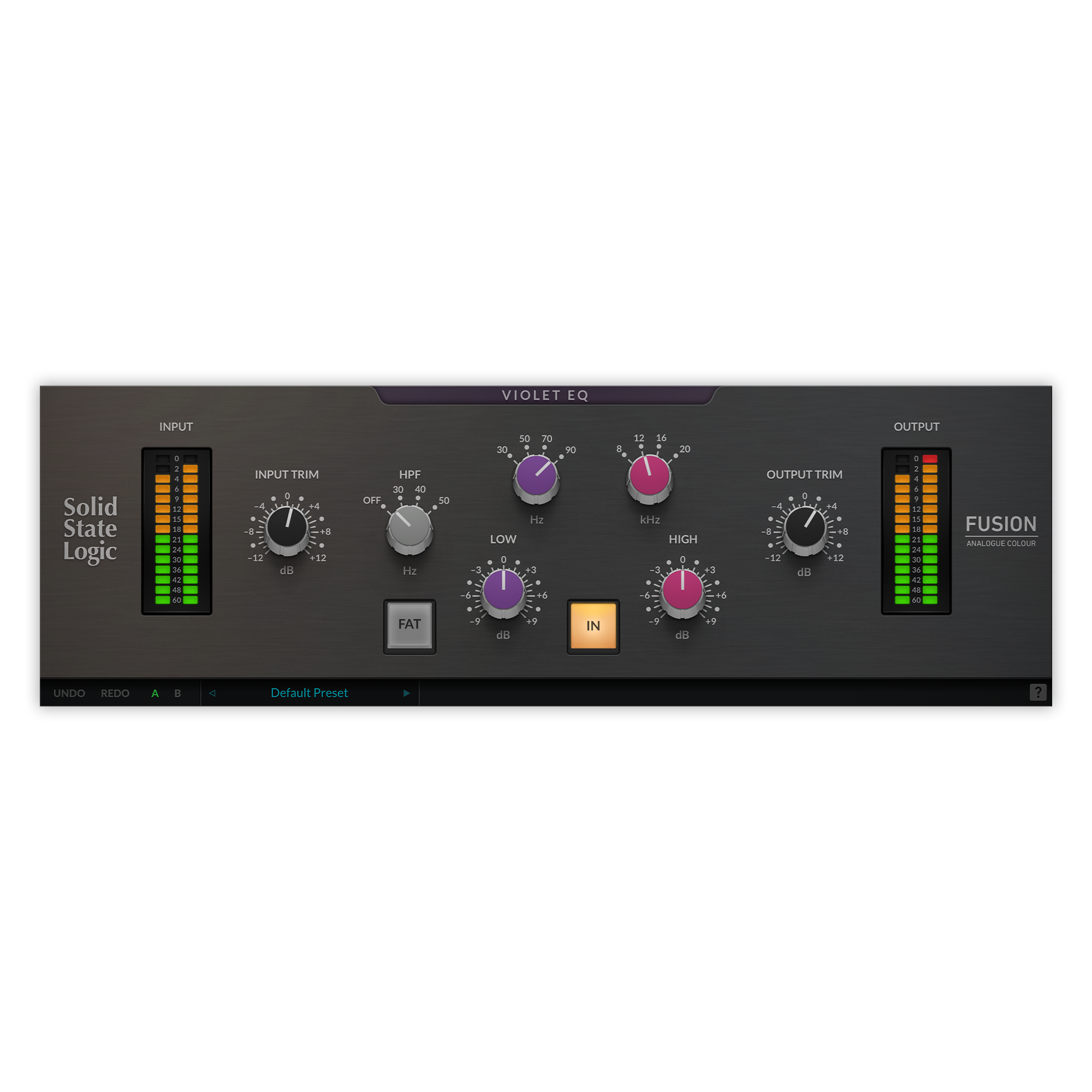  
SSL Fusion Violet EQ Plug-in
Click here to view our security policy
Click here to view our returns policy
LOW-END WEIGHT, HIGH-END SHEEN
The Violet EQ is a 2-band minimum phase-shift shelving EQ from the critically acclaimed Fusion Stereo Analogue Colour processor. It is the first new Solid State Logic analogue EQ design in more than 25 years and is now available for you DAW.
Violet EQ draws on SSL's legacy and deep understanding of production workflow to develop an exceptionally musical sounding EQ with carefully selected frequency points and response curves to offer the perfect balance of tone and control. Whether it's adding high-end sheen to your masters or sculpting a bass line to fit perfectly in the mix, the simple but effective controls and exceptional sound quality of Violet EQ Plug-in will enhance your productions.
Above and beyond what is found on Fusion hardware, 'FAT' processor has been added to enhance Violet EQ Plug-in's low frequency control. When the HPF is engaged, 'FAT' adds a subtle bump around the filters cut-off frequency, adding low-end punch back into the signal.
Try out a 14 day free trial of Violet EQ Plug-in via the 'Free Trial' tab on this page.

Key Features
Apple M1 Native Support: Fusion Violet EQ is a universal binary, and features M1 Native support.
Modelled on the SSL Fusion Violet EQ processor
First new SSL analogue EQ circuit for more than 25 years
Carefully selected frequencies and response curves
Includes the high-pass filter from the SSL Fusion hardware unit
Four switched frequency points and +/- 9 dB attenuation
NEW: FAT button adds subtle 'oomph' to the low-end when the HPF is switched in
ECO mode: drop into 'ECO' mode for reduced latency and CPU-use, for tracking and recording purposes
Modelled using a combination of real-life measurements, analogue circuit designs, and close collaboration with the original analogue designers of the SSL Fusion hardware and validated by real-world producers
Built on the SSL Plug-in Engine
NEW: Built-in help! Simply click the '?' symbol and mouseover the GUI for more information about each of the parameters
SSL's cross-platform preset management and A/B-ing system
Built-in UNDO/REDO support
Comes with presets from world-class producers and engineers Adrian Hall, Sean Divine and Wez Clarke
"Not all EQ's are created equal and Violet EQ is in a league of it's own. Utilizing it in plugin form across an entire session, in addition to the master bus changes everything."
Sean Divine
Downloads
SSL plug-ins can be authorised by machine-based iLok licensing or iLok 2 / iLok 3 USB dongles.
Violet EQ Plug-in FREE TRIAL
For 14 days, you can demo Violet EQ Plug-in for free.
To start a free trial, simply download and install Violet EQ Plug-in in the correct format for your DAW. Upon launching your DAW, click the 'Try' button to activate your free trial. If the Activation Experience pop-up does not appear on launch, simply insert the plug-in on any insert. You will be asked to log into your iLok account, and the trial authorization period will begin.
Happy mixing.