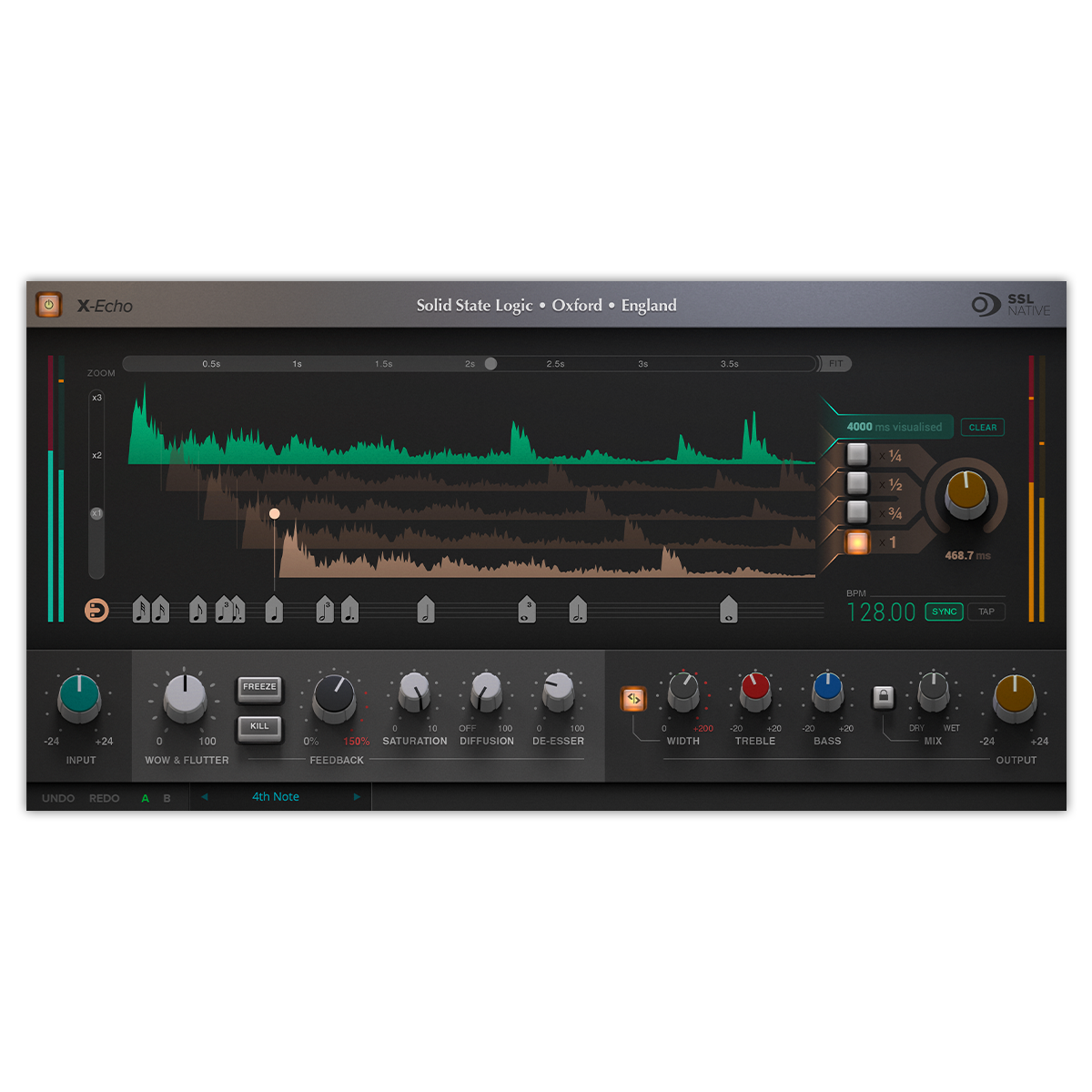  
SSL Native X-Echo
Click here to view our security policy
Click here to view our returns policy
VINTAGE TAPE DELAY, ADVANCED SSL WORKFLOW

SSL Native X-Echo is a plug-in inspired by early tape delay hardware from the '60s and '70s, while introducing SSL's signature sound and brought up-to-date with advanced workflow.
X-Echo is your vibe machine, adding the gloriously warm sound of vintage tape to your recordings, sessions and even jams. Soft compression, hiss and the well-known gradual degradation of tape have all been meticulously modelled and combined with SSL's renowned console-style saturation and LF/HF EQ. In addition to advanced waveform visualisation, built-in 'DE-ESSER' and delay 'WIDTH' control, X-Echo features a brand-new SSL reverb design: Capable of subtle space to the richest of plates, all the way to a reverb tail which can fill a canyon, all via the single-knob 'DIFFUSION' control.
Able to effortlessly deliver traditional tape delay effects like swirling echoes and classic slap back, X-Echo is also capable of more contemporary creative delays commonly found in electronic music, and of course can be driven to self-oscillation via 'FEEDBACK' or add creative swells via 'FREEZE' and 'KILL'.
Try out a 14 day free trail of X-Echo Plug-in via the 'Free Trial' tab on this page.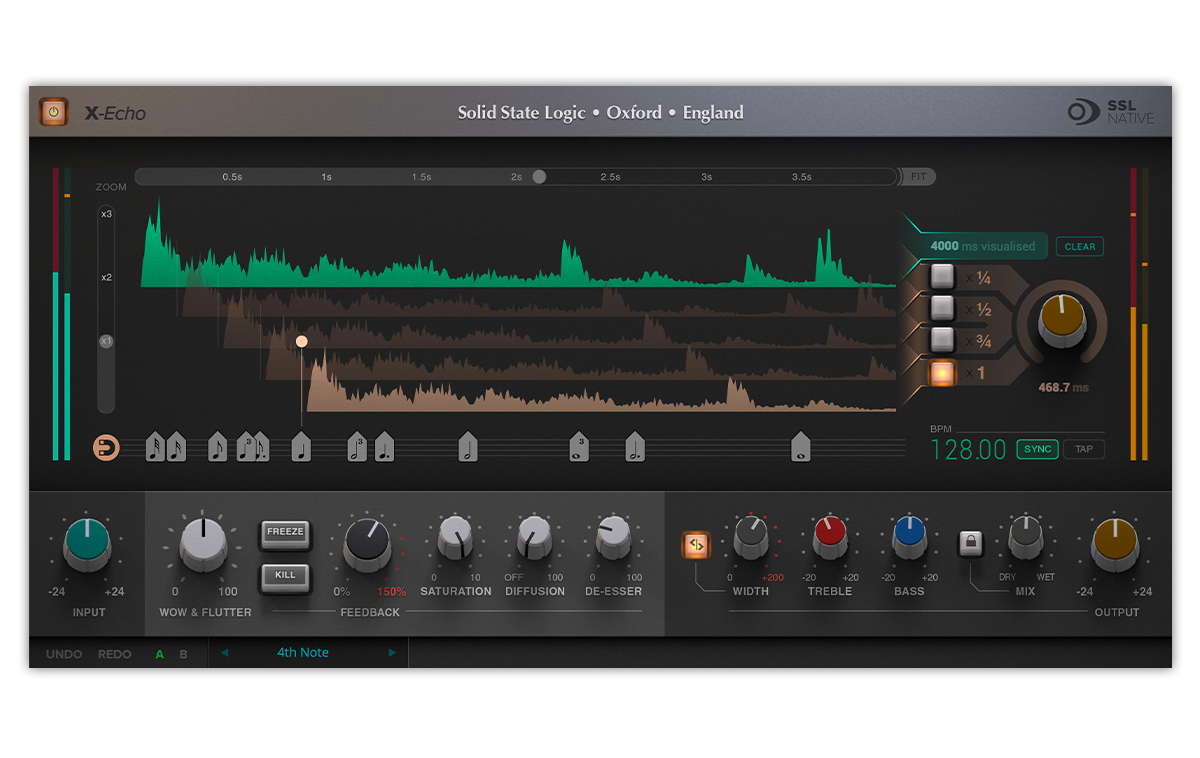 Key Features
Apple M1 native support - X-Echo is a universal binary, and features M1 Native support
4 switch-able tape heads for adding variation
Tape-style analogue degradation with classic SSL-style distortion characteristics using the 'Wow & Flutter' and 'Saturation'
Models classic characteristics of hardware tape echo devices, including the looping EQ, soft clipping, gentle tape hiss and self-oscillation
WOW & FLUTTER emulates the effect of mechanical components, as well as the friction of the tape itself
FREEZE and KILL to build risers and drops
DIFFUSION control, featuring a brand new reverb design
Built-in DE-ESSER for controlling the sibilant frequencies that tape echoes often accentuate.
Unique interface and waveform visualisation
Cleverly stereoises mono signals
Built on the SSL Plug-in Engine
"The X-Echo plugin is really versatile, with the built-in saturation, diffusion control and EQ, and the automatable Freeze and Kill switches. I use it all the time!"
Adrian Hall (Black Eyed Peas, Shakira, Depeche Mode and many others)
Downloads
Use the SSL Download Manager to install and manage your SSL plug-ins. Click on the button below and log into your SSL Account to get started.
For offline installers, please visit this FAQ.
SSL Native X-Echo Plug-in FREE TRIAL
For 14 days, you can demo X-Echo Plug-in for free.
To start a free trial, simply download and install X-Echo Plug-in in the correct format for your DAW. Upon launching your DAW, click the 'Try' button to activate your free trial. If the Activation Experience pop-up does not appear on launch, simply insert the plug-in on any insert. You will be asked to log into your iLok account, and the trial authorization period will begin.
Happy mixing.