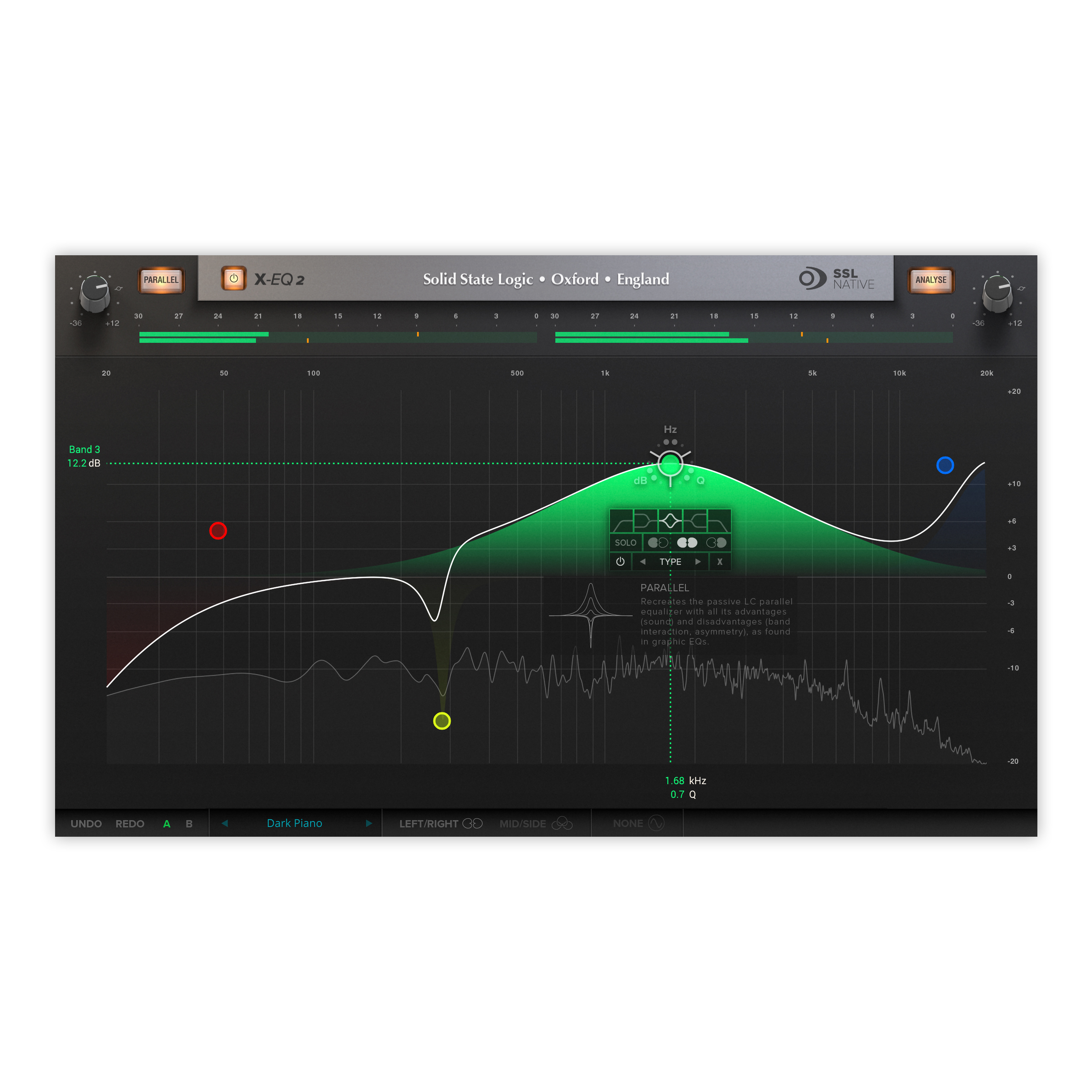  
SSL Native X-EQ 2
Click here to view our security policy
Click here to view our returns policy
Mastering grade 24-band parametric EQ
X-EQ 2 is the ultimate SSL EQ toolkit for audio professionals. Built upon SSL's proprietary anti-cramping algorithms, X-EQ 2 simply sounds stunning. With 17 different classic and modern EQ type/curve options, X-EQ 2 is a formidable and powerful contender to be your new 'go-to' EQ plug-in.
X-EQ 2 is a highly configurable 24-band EQ plug-in, featuring unique anti-cramping algorithms for an unparalleled open and transparent sound. It's the ultimate EQ toolkit, with 17 different EQ types and filter shapes. Each band is switchable between bell, shelf, low pass or high pass filter types, with both classic and customisable shapes available for each band. It features brand new spatial processing options, band soloing, and the classic X-EQ 'Parallel' mode for recreating the characteristic sound of old parallel passive EQ circuits.
Key Features
Apple M1 native support - X-EQ 2 is a universal binary, and features M1 Native support
24-band fully parametric high quality digital EQ, featuring unique SSL anti-cramping algorithms
DSP Optimisation makes X-EQ 2 super efficient and CPU light
A total of 17 different filter types: 5 different cut filters, 9 bell shapes, shelving filters, a parallel mode, and custom filters
Extensive control options including draggable EQ graph nodes, mouse wheel adjustment and numerical data entry
Extremely low noise and low non-linear distortion filter algorithms resulting in the residual THD+N significantly lower than 24-bit quantisation noise
Mid/Side and Left/Right spatial processing options
Individual band solo and bypass
Real-time FFT analysis display
Inclusion of Phase & Step response graphs to show the effect of EQ processing
Documents
Downloads
Use the SSL Download Manager to install and manage your SSL plug-ins. Click on the button below and log into your SSL Account to get started.
For offline installers, please visit this FAQ.